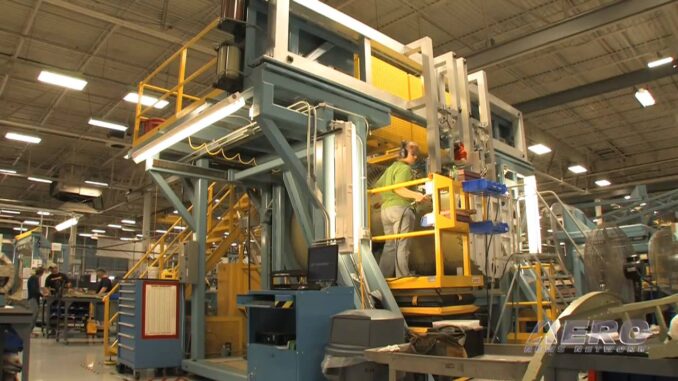 CJ4 Program Manager, Norm Baker, Provides an Exclusive Factory Tour
At Cessna Aircraft, safety begins with a durable airframe. Each airframe is stress-tested five times the aircrafts standard lifetime; yet, Cessna's renowned safety and reliability begins on the production line. State-of-the-art technology allows employees to create replicable, seamless assembly for each new aircraft on the line. In the last part of his four-part series, Baker describes the front of the CJ4 production line; at this point, technicians complete final system installations and preparedness before the aircraft moves into functional testing, and ultimately, power on.
The Citation CJ4 will debut two new dual-channel, FADEC controlled Williams International FJ44-4A engines. The turbofan engines each produce 3,400 pounds of takeoff thrust, allowing the aircraft to takeoff at max weight with as little as 3,300 feet of runway. After takeoff, the Citation CJ4 is capable of a direct climb to 45,000 feet in just 28 minutes. In addition, the CJ4 will offer increased performance over earlier projections with a maximum cruise speed of more than 450 knots and a maximum range of over 2,000 nautical miles.
On February 2nd, 2010, Cessna announced the completion of all certification testing. Three Citation CJ4 test aircraft completed over 1,100 flights with more than 2,000 flight hours accumulated. With the CJ4 in the final stages of F.A.A. type certification approvals, the company expects deliveries to begin in late 2010.
Copyright 2010, Aero-News Network, Inc., All Rights Reserved.