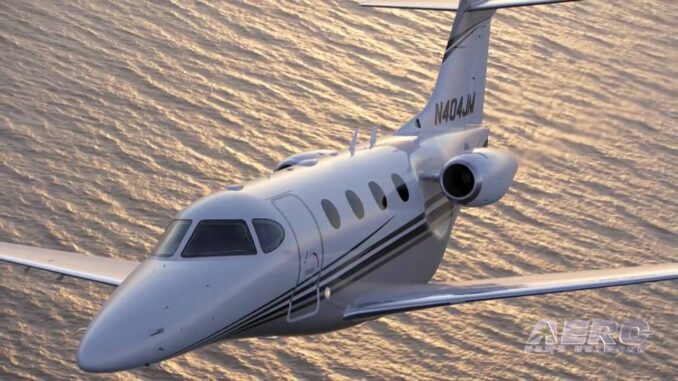 Premier II Retains Composite Fuselage with Increased Performance
On May 19th, 2008, the Hawker Beechcraft Corporation announced the next evolution to their successful Premier 1/1A, the Premier II. The upgraded aircraft will include new engines, winglets, and an increased maximum gross take-off weight of 13,800 pounds up from the Premier Is 12,500 pounds. Designed to fly higher, father, and faster than its predecessor, the highly anticipated Premier II will offer the largest cabin and most technologically advanced single-pilot business jet in the world.
Replacing the Premier I and IAs FJ44-2As, the new Williams International FJ44-3APs, with over 6,000 pounds of combined thrust, provide a significant increase in performance capabilities without adding any fuel capacity to the Premier airframe. Premier II incorporates all-new full authority digital engine control (FADEC) system technology to optimize engine performance by maintaining maximum power at the lowest possible fuel burn. The result is a 15-knot increase in maximum cruise speed to 465 knots and a new maximum cruising altitude of 45,000 feet.
Due to the increased cruising altitude, where the new engines are more efficient, the Premier II also offers a 20-percent increase in range to 1,500 nm nonstop. In addition, the newly designed composite winglets reduce drag and increase effective wingspan contributing to the aircrafts increased performance advantages. Certification for the Premier II is anticipated for 2010.
Copyright 2009, Aero-News Network, Inc., All Rights Reserved.
FMI: http://www.hawkerbeechcraft.com/beechcraft/aircraft/jets/premierII/