Scrap metal from Marshall Islands supports Amelia Earhart theory, group says
BY BRIAN BURNESTHE KANSAS CITY STAR
11/23/2014 10:29 PM 12/04/2014 8:02 AM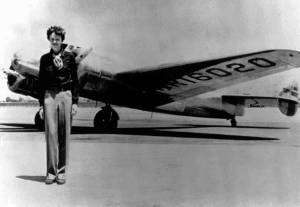 Amelia Earhart and her Lockheed Electra 10E; she vanished over the Pacific in July 1937
One person's scrap is another person's Holy Grail.
That's certainly the case with two pieces of fatigued metal recently recovered from a reef in the Marshall Islands of the north Pacific.
The Amelia Earhart researchers who found them consider them priceless relics. They believe both artifacts — a small aluminum cover plate and a circular metal dust cover from a landing-gear wheel assembly — came from the plane Earhart was piloting when she and her navigator vanished July 2, 1937, during an attempted around-the-world flight.
"This is the first time that somebody has offered hard evidence from the Marshall Islands that can be traced to Earhart's Lockheed Electra," said Carol Linn Dow, a Texas pilot, Earhart author and former Merriam resident who helped produce a new DVD video that features the artifacts.
Related
Scrap metal from Marshall Islands supports Amelia Earhart theory, group says
At least two other competing groups of Earhart researchers — both of which have invested heavily in years-long searches for the plane hundreds of miles from the Marshalls — wonder whether the scraps are just worthless scrap.
That contention doesn't faze Jim Hayton, a Washington state aircraft repair specialist who has served as a consultant to Federal Aviation Administration and National Transportation Safety Board investigators.
"To me, this is the Holy Grail," Hayton said of the dust cover, which he believes was part of the Goodyear Airwheel assembly from the left-side landing gear on Earhart's Electra. The Airwheel assembly included a "soft" tire manufactured especially for landing on rough terrain.
Only 148 airplanes in the Lockheed Electra 10 series — one of which Earhart piloted — were built, said Hayton. Of those, a very small number had Goodyear Airwheels installed, he said.
According to Dow, the chances that the dust cover came from a Lockheed Electra other than Earhart's are "practically zero."
The second piece of evidence is a small aluminum cover plate, about 4 to 5 inches long and about 2 inches wide. Dow and Hayton believe that plate could have covered the auxiliary power unit used to jump-start aircraft engines. About half of the plate bears wrinkles likely caused by a crash, they said.
Its red paint also makes sense, they said, because Earhart's plane had red trim.
Richard Spink, a Washington state aluminum boat kit manufacturer with clients in the Marshall Islands, led the expeditions during which the two items were recovered.
Interviews with island residents led him to the spot on the Mili Atoll reef where two fishermen said they saw the Lockheed Electra land in 1937, Spink said.
Searchers using metal detectors found the artifacts below the island surface. He brought the small aluminum cover plate back to the United States first, but then returned on another expedition after Hayton saw the bent dust cover in a photograph and urged Spink to retrieve it.
Spink has led four expeditions to the Marshall Islands. Its residents, Spink said, do not discuss the Earhart story casually. That's out of fear and remembrance of the treatment residents endured from Japanese administrators during World War II, he said.
"This is not about money; I haven't made a penny off this," said Spink, who has videotaped the islanders' stories. "I wanted to make this movie for the people of the Marshall Islands. They kind of adopted me into their culture and gave me privileged tours of some of the islands."
Some researchers in the passionate community of Earhart investigators long have espoused variations of the theory that Earhart and navigator Fred Noonan landed in the Marshall Islands and became prisoners of the Japanese. They often cite testimony from native eyewitnesses, including one who said he provided medical treatment to Noonan aboard a Japanese ship that carried the damaged Lockheed Electra on its deck.
Perhaps Earhart, a native of Atchison, Kan., headed for the Marshalls after being unable to find Howland Island, her original destination 800 miles away, some say. Others believe Earhart and Noonan were performing secret pre-war reconnaissance of the Japanese-controlled Marshalls for the U.S. government, and that a massive search for the fliers was part of a plan to help the United States better map parts of the Pacific.
Ric Gillespie doesn't buy that.
For many years now, the high-profile Pennsylvania-based investigator has maintained that Earhart and Noonan landed at uninhabited Nikumaroro Island in the south Pacific, about 400 miles southeast of Howland Island.
"The Japanese had several Lockheeds of similar types," Gillespie said of the Marshall Island artifacts. It's possible, he said, that these pieces came from one of those.
Just last month, Gillespie revealed a new theory involving a piece of aluminum his team recovered during a 1991 expedition to Nikumaroro. He believes it is from a patch that had been put over a window on Earhart's plane while she was in Miami on the U.S. portion of her around-the-world flight. Old photographs held by The Miami Herald show the patch, he said.
This fall, Gillespie traveled to Newton, Kan., to compare how his aluminum scrap would fit on a Lockheed Electra being refurbished there. He also believes the aluminum is old enough to be from the correct time period, though others have argued it is not.
"We recently had our findings reviewed by disinterested metallurgists with impeccable credentials," said Gillespie, who plans to post their testimony this week on the website of his research organization, The International Group for Historic Aircraft Recovery, or TIGHAR.
Gillespie plans to lead another expedition to Nikumaroro in June.
Elgen Long, another longtime Earhart researcher, also is not swayed by the two Marshall Island relics. The Nevada resident and author of "Amelia Earhart: The Mystery Solved," believes that Earhart did not have enough fuel to get there.
Often described as the guru of the "crash and sank theory," he believes that Earhart ran out of fuel and ditched in the ocean somewhere near Howland Island.
"She was within 50 miles of Howland Island with a half-hour of fuel remaining," said Long, who is a pilot. "She would not have had the gas to the Marshall Islands and why would she want to go there? Her house was mortgaged to the hilt to pay for this trip, her career and very life were at stake, and she had one of the best navigators in the world with her."
The Marshall Island relics bear no serial numbers, which could have provided a direct link to Earhart's Electra.
Nevertheless, some researchers consider them powerful evidence.
The new DVD about them convinced Mike Campbell that the dust cover indeed came from a Lockheed-manufactured plane.
"No others were in the area in the 1930s," said Campbell, a Floridian who already believed that Earhart and Noonan landed at Mili Atoll.
The dust cover also intrigues researcher Leslie Kinney, a retired U.S. Treasury agent in Washington state.
"This piece fits almost perfectly within the type of wheel manufactured by Goodyear," he said.
"There's no evidence of any U.S. or Japanese aircraft being shot down or disabled in that part of Mili Atoll. So where would this have come from? In all likelihood, it came off Earhart's plane."
Hayton — the person who told Spink to go back for the dust cover after seeing its picture — is convinced.
"I rebuild wrecked airplanes," he said. "I've been doing this since I was 14 years old and I'm almost 70 years old now.
"I recognized it immediately for what it was."
To reach Brian Burnes, call 816-234-4120 or send email to [email protected].
ameliaearhartmovie.com/
Read more here: http://www.kansascity.com/news/local/article4084144.html#storylink=cpy