Bombardier Learjet Delivers First EASA-registered Learjet 75 Aircraft to Groupe Roullier
Posted on Friday, September 26, 2014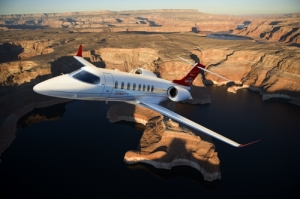 · First European delivery, only days after receiving EASA's full type certification
Montréal, September 26, 2014 – Bombardier, the world's leading business aircraft manufacturer, celebrated today the delivery of the first EASA-registered Learjet 75 aircraft to the Roullier Group, a company based in France. The aircraft was delivered during a special ceremony at Bombardier's facility in Wichita, Kansas and will be operated out of France.
The Learjet 75 aircraft, along with the Learjet 70 aircraft, received full type certification from the European Aviation Safety Agency (EASA) on September 12.
"We are delighted to see the first Learjet 75 aircraft enter into service in Europe, and we are confident that its performance and efficiency, combined with its completely new interior, will allow the Roullier Group to optimize their business missions", said Simon Burrows, Regional Vice President, Sales, Western Europe, Bombardier Business Aircraft.
"It is a great milestone for us to introduce this aircraft in Europe, which remains the second largest market for business jets. The region currently represents 12% of the worldwide installed base and is expected to receive 3,575 unit deliveries by 2033," he added.
Established in France in 1959, the Roullier Group is a family-owned group. With over 7,000 employees in 46 countries, the Roullier Group owns a portfolio of companies and brands that are synonymous with quality and thoroughness enabling earth and man to produce the best.
Learjet 75 aircraft: The Learjet 75 aircraft offers improved comfort and styling of the seats; cabin management system featuring individual touchscreen monitors with full audio and video control; LED lighting throughout the entire aircraft; a generous baggage suite and a spacious galley to optimize catering, work and storage space. With a maximum range greater than 2,000 nautical miles at cruise speeds up to Mach 0.81, the Learjet 75 aircraft will be able to fly four passengers and two crew members non-stop from Paris to Cairo and Madrid to Moscow.* Additionally, its powerful engines and new winglet design allow it to carry eight passengers with full fuel.*
About Groupe Roullier
The Roullier Group has always adopted the most innovative and ambitious approaches in its quest to meet global food challenges. As a specialist in plant, animal and human nutrition, it is experiencing strong development worldwide with support from a solid, dynamic and pro-active structure, matched by comprehensive expertise in all aspects of its industrial and commercial processes.